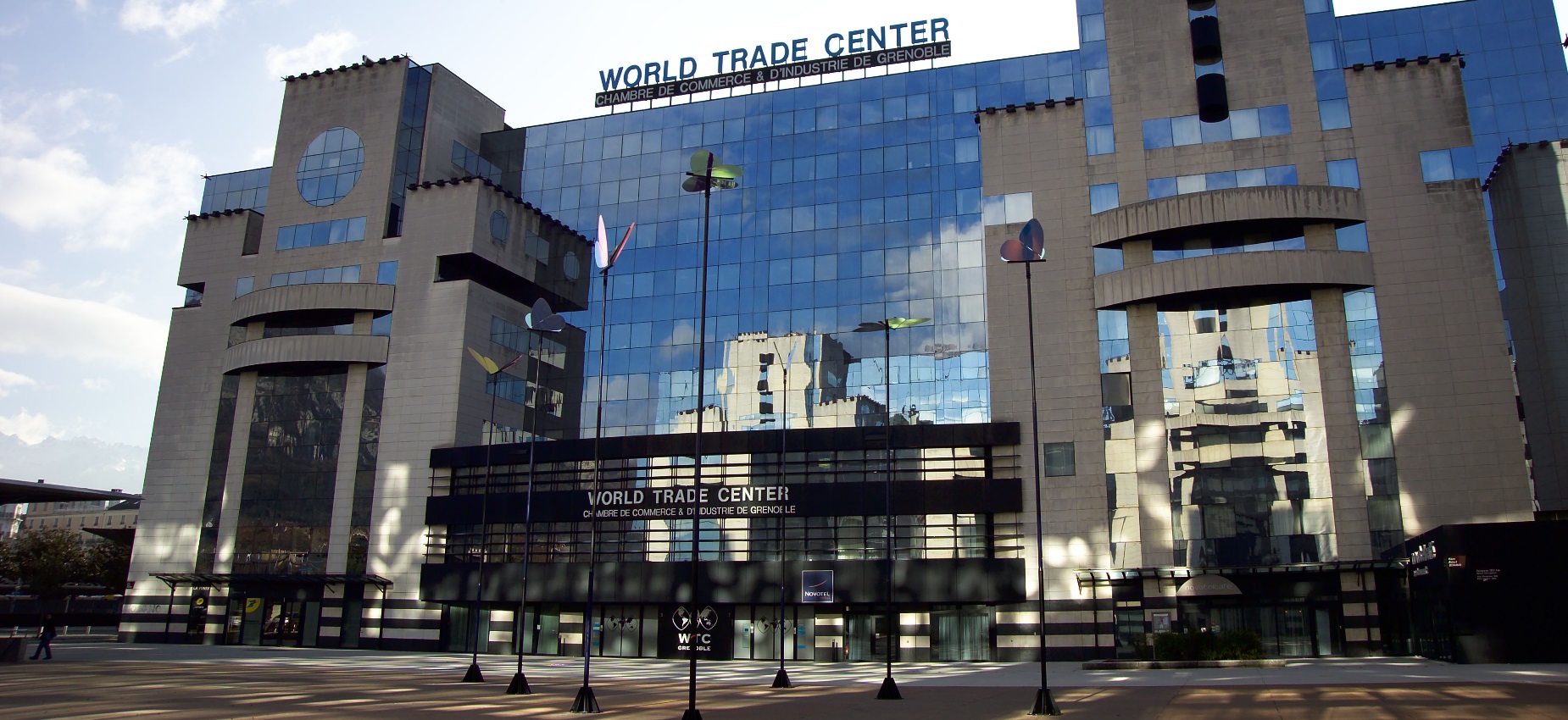 Travel to Grenoble and access the World Trade Center (WTC)
Grenoble is located in South East France, about 3hours by high-speed (TGV) train from Paris, 2 hours by bus from
Geneva and 1 hour by high-speed train from Lyon.
If you are arriving at the Airport, you can book a shuttle either via Flixbus or BlablaBus.
If you need more information about the bus timetables HERE!
This event will take place at the World Trade Center - 5 -7 place Robert Schuman 38025 Grenoble Cedex 1 which behind the Grenoble train station.
More information on how to get to the WTC HERE!
TIP: if you arrive at the Grenoble train or bus station then the WTC is on the other side of the railway lines. You will need to take the underground passegeway from the main station (go down the stairs inside the main hall). On exiting the passageway you will arrive at the Place Schuman and the WTC is on your left when facing away from the train station. The exit/entrance of the passageway has recently received a new look which makes it easy to recognise (see picture below).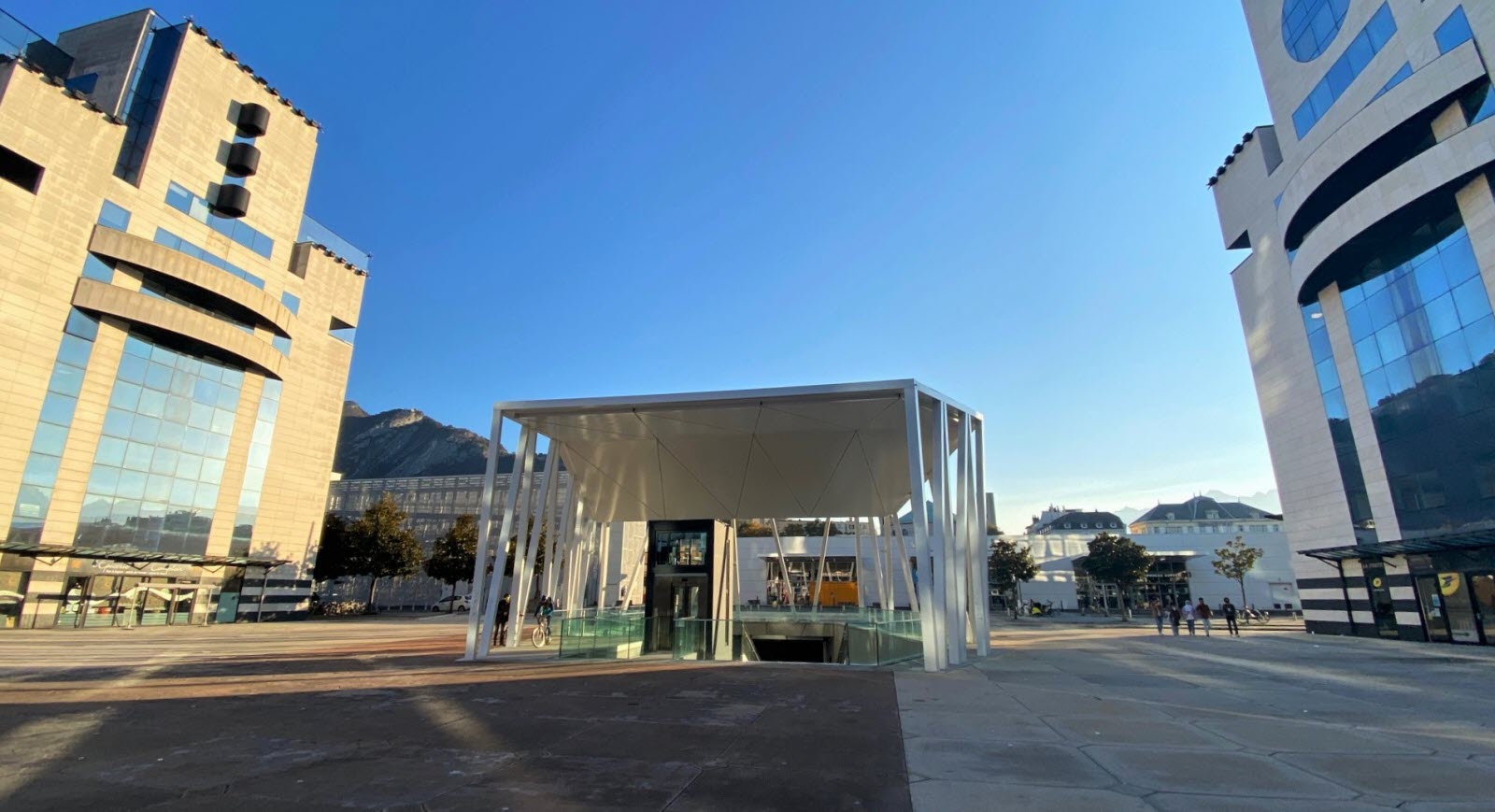 In case you want to know what the weather forecast is we can recommend this local site: https://www.meteo-grenoble.com/previsions
List of hotels near the World Trade Center
Please find below a list of hotels near the World Trade Center:
Hotel name
Distance from the venue
Parking

4* Hotel Novotel Grenoble Centre
7 place Robert Schuman
38000 Grenoble
Tel: 04.76.70.84.84

Train station: 2mn

Total travel time to WTC 1mn on foot

14€/24h in garage

3* Hotel Europole
29 rue Pierre Semard
38000 Grenoble
Tel: 04.76.49.51.52

Train station: 5mn

Total travel time to WTC 3mn on foot

12€/night
3* Maison Barbillon (ASSAS)
10 rue Louis Barbillon
38000 Grenoble
Tel: 04.58.00.52.43

Train station: 4mn

Total travel time to WTC 8mn on foot or 7mn tram B

6 places in a box8€/night
3* Hotel IBIS Centre Gare
27 quai Claude Bernard
38000 Grenoble
Tel: 04.76.86.68.68

Train station: 5mn

Total travel time to WTC 9mn on foot

6€/night
4* Okko Hotel
23 rue Hoche
38000 Grenoble
Tel: 04.85.19.00.10

Total travel time to WTC 20mn on foot or 20mn tram B

17€/24h in nearby public parking
4* Park Hotel Grenoble
10 Place Paul Mistral
38027 Grenoble
Tel: 04.76.85.81.23
Total travel time to WTC 27mn on foot or 18mn bus C1
Parking Chavant 12€/night
4* Le Grand Hotel
5 rue de la République
38000 Grenoble
Tel: 04.76.51.22.59

City Center

Total travel time to WTC 21mn on foot or 13mn tram B

Voiturier service: 19€/night reserved spaces in nearby park
4* Hotel Mercure President
11 rue Général Mangin
38100 Grenoble
Tel: 04.76.56.26.56
Total travel time to WTC 21mn on foot
Free in garage or exterior
3* Hotel d'Angleterre
5 place Victor Hugo
38000 Grenoble
Tel:04.38.88.40.40

City Center

Total travel time to WTC 18mn on foot or 11mn tram B

Parking Grenette-Téléphérique 14€/24h
11€/nigh