17-19 November 2020
Saint Petersburg
Etc/GMT+3 timezone
Location
The conference will take place in Dashkova Residence Conference room at the heart of Saint-Petersburg (Address: Saint Petersburg, Galernaya Street, 15).
All main Sightseeings are literally around the corner!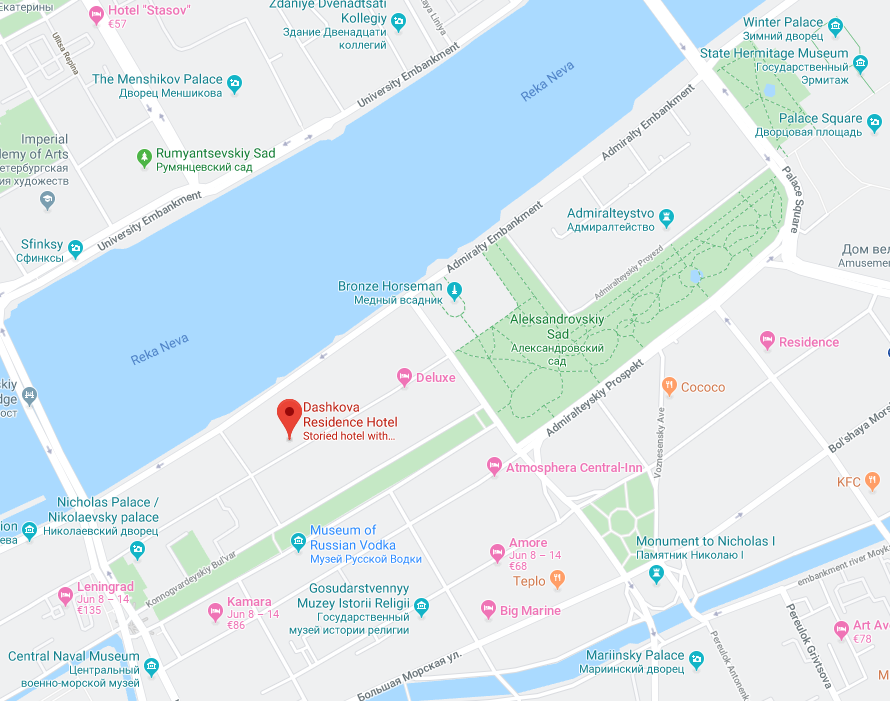 Points of Interest
If you have a chance to stay a bit longer in Saint Petersburg, please, don't miss it!
Saint Petersburg is inscribed on the UNESCO World Heritage list as an area with 36 historical architectural complexes and around 4000 outstanding individual monuments of architecture, history and culture.
The city has 221 museums, 2000 libraries, more than 80 theatres, 100 concert organizations, 45 galleries and exhibition halls, 62 cinemas and around 80 other cultural establishments.
Here we can mention only few of them.
The well known the State Hermitage Museum of art and culture. The second-largest art museum in the world!
Its collections comprise over three million items, including the largest collection of paintings in the world. Its collections include Egyptian antiquities, Classical antiquities, Prehistoric art, Jewelry and decorative art, Italian Renaissance, Italian and Spanish fine art, Knights' Hall, Dutch Golden Age and Flemish Baroque, German, Swiss, British and French fine art, Russian art, French Neoclassical, Impressionist, and post-Impressionist art, Modern, German Romantic and other 19-20th century art, etc
This Palace Ensemble, widely known in Europe and bearing the status of a "building of federal significance" in Russia, once belonged to a princely family. Amazing interiors, astonishing history of the place.
If you know few about Russia, a quick and exciting way is to explore the whole Russia in miniature. With Audioguide you will learn more about history and geography of Russia, differences of regions and see national features of each. Estimated visit time is ~3 hrs. If you decide to visit the Grand Maket, we do recommend to visit it at early hours to avoid crowd.
Series of palaces and gardens are located in Petergof near Saint Petersburg. It has 414,2ha of parks & gardens, more than 150 fountains, 32 museums. Plan the whole day for this trip starting early.